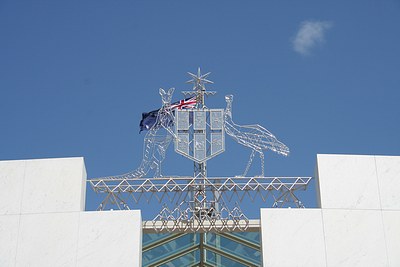 A sculptural version of the Aussie Coat-of-Arms - both the kangaroo and emu are indeed quite tasty!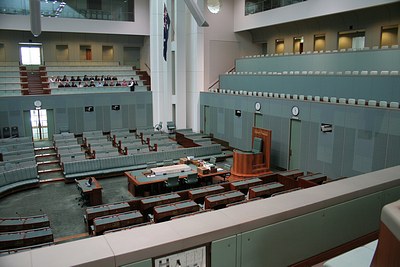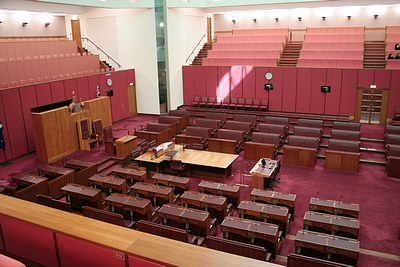 The 2 chambers of the Australian Parliament - the green chamber is the House of Representatives and the red one is the Senate (because you should always maximise the number of politicians!). The pale colours are not faded but were chosen to match the pale colours of the euchalypt.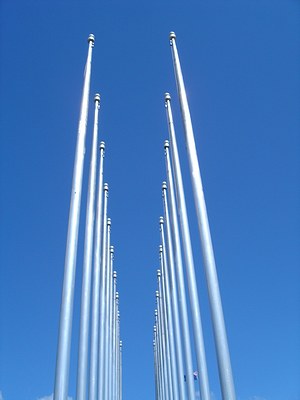 LOTS of flagpoles in Canberra, just in case anyone important turns up!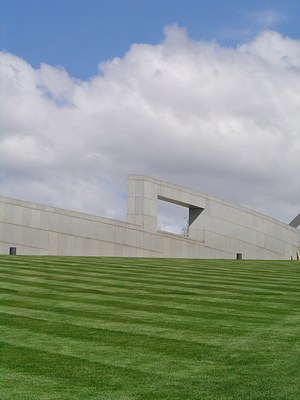 Parliament House is built into the top of a hill - due to the current drought, it has the greenest (and most neatly mown) lawn in the city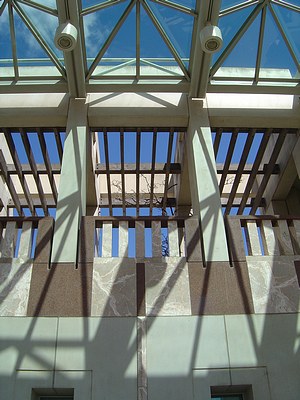 Funky acrhitecture - really bright and airy inside - designed by an American, as was the original city of Canberra, incidentally...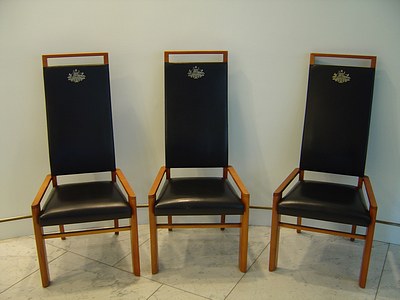 And chairs too!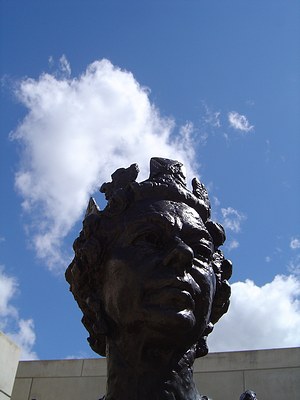 No self-respecting ex-British (penal) colony should be without their very own dodgy statue of The Queen - I think it's Liz, but I can't be sure...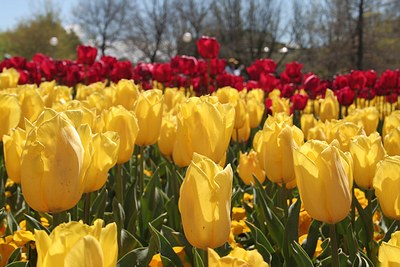 Every year Canberra hosts a flower show - Floriade - where, as the name suggests, they make designs out of flowers. The artists seem to like tulips, just to keep with the 'Australian Icons' theme for this year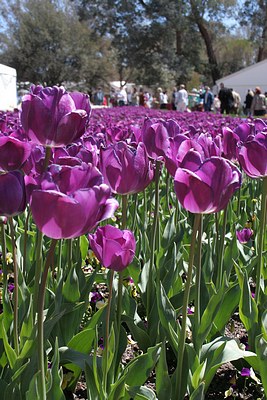 The purple ones are quite funky though...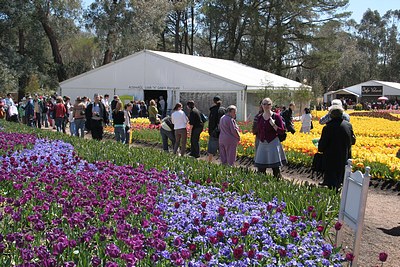 It covers quite an area - Lotte admiring the purpleness of the place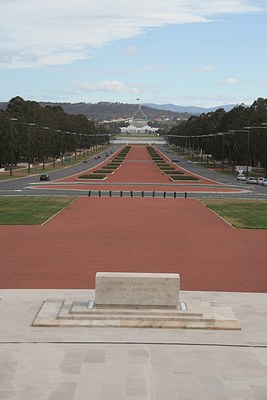 Canberra was planned meticulously in the early 1900s by Walter Burley Griffin - the Parliament House was placed at the end of an avenue with a direct view to the National War Memorial - and then the New Parliament House was placed along the same line...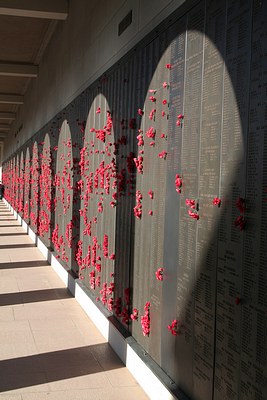 Quite sobering - the War Memorial has the names of the over 100,000 Australians who have died in the wars Australia has been involved in from WWI onwards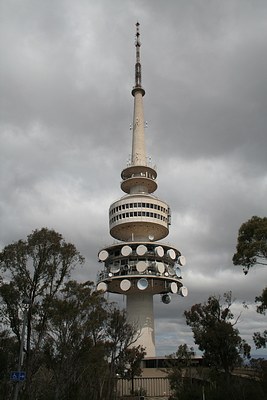 The Black Mountain Tower, home to an expansive revolving restaurant and lots of exposed concrete (gotta love late '70s architecture). Nice view over Canberra though.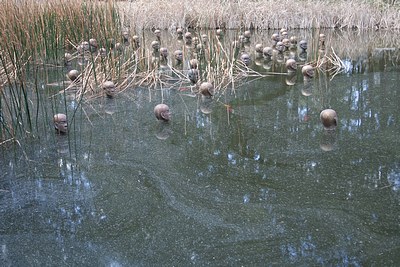 A rather disturbing sculpture at the National Gallery - called Heads from the North, presumably because 'Children Overboard' was already taken!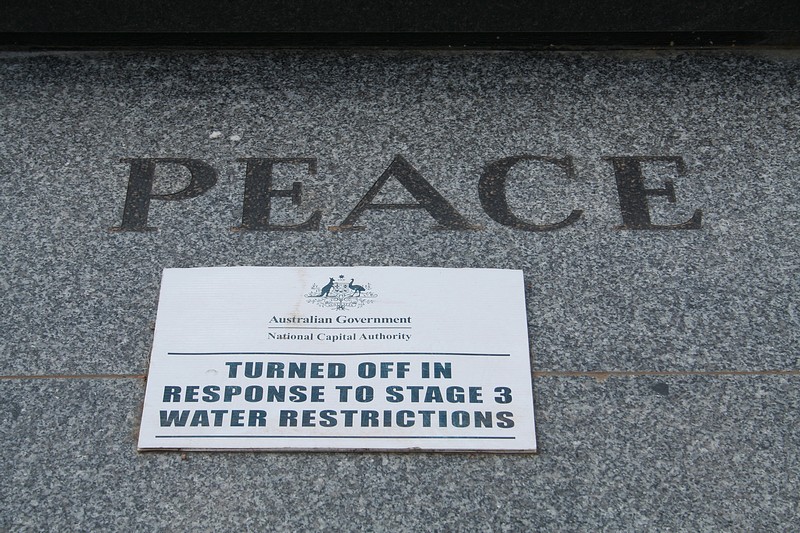 A sign of things to come?...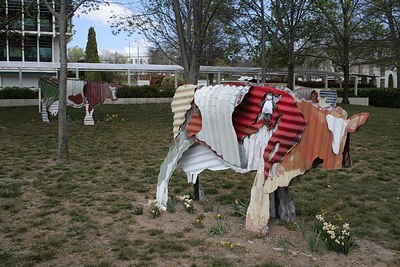 Interestingly, the New Zealand High Commission in Canberra has corrugated iron cows out the front - were they afraid of the comments if they'd put sheep there instead?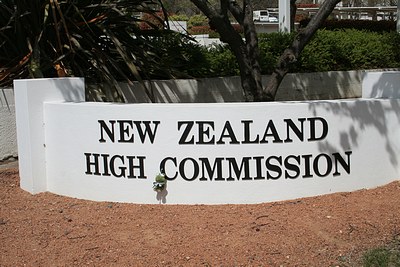 Kenneth the frog enjoyed their sign though - nice to see that the NZ and Canadian High Commissions had no fence around them - oh to have an inoffensive government!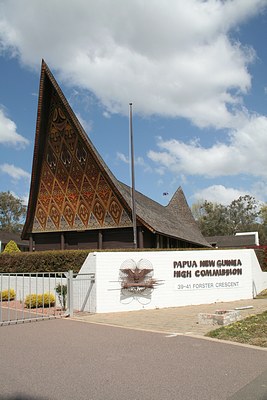 PNG had a cool building though, despite the fence.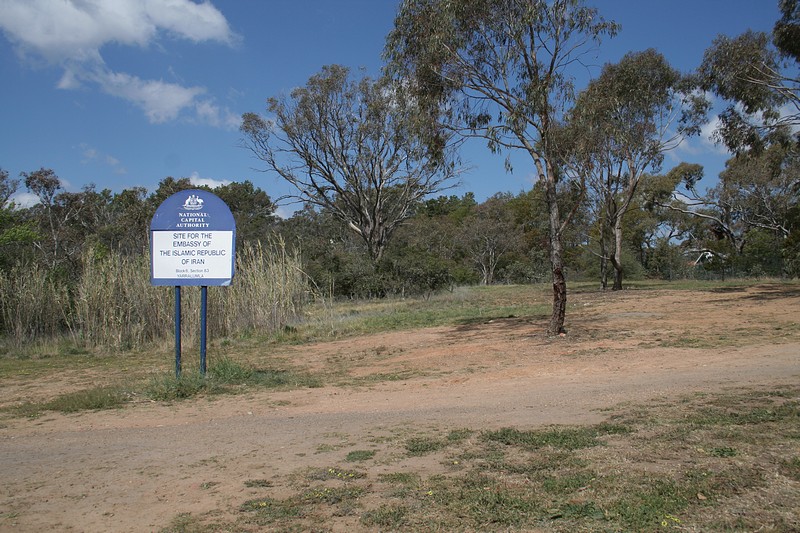 Hmmm...I guess that site will be vacant for a while yet!