Photos from a trip to Malaysia, July 2006
The Perhentian Islands
We arrived by a rather violent boat trip, found our friends Natja and Kim waving at us on shore. The weather was hot and humid. Covered in sweat. We lived in huts by the beach and woke every morning at 8 am when the fan stopped because the generator was turned off. Snorkelled. Dived. Played with the significant number of kittens living on the island. Had banana pancakes and mango lassi. Spent the evenings at candlelight on the beach. Oh, and one hotel on the island showed the World Cup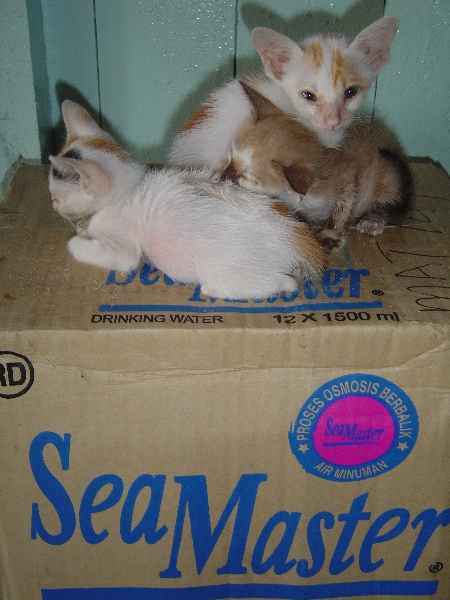 Kittens. Aaaaaah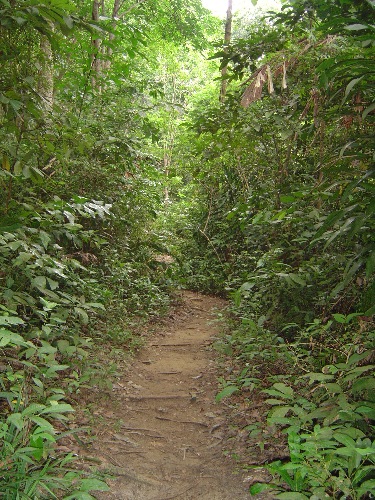 A path across the island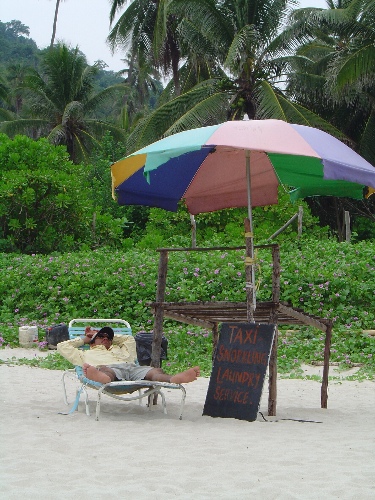 Some locals were professionally flexible. Well, sort of.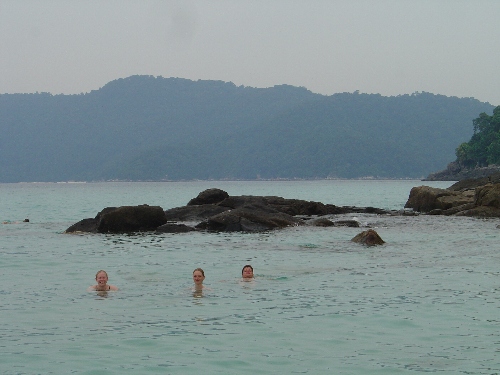 The sea was so warm it was barely refreshing. The snorkelling off the beach was mildly interesting. Some of the snorkelling sites in the area were great - we saw lots of reef fish, turtles and reef sharks.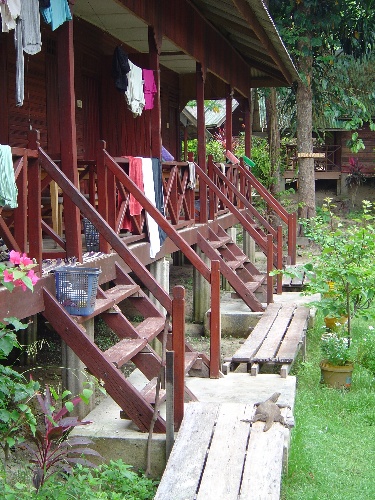 Our accomodation. It was cosy but not too clean. We shared our room with a rat and a cockroach. And a monitor lizard which we tried to not step on.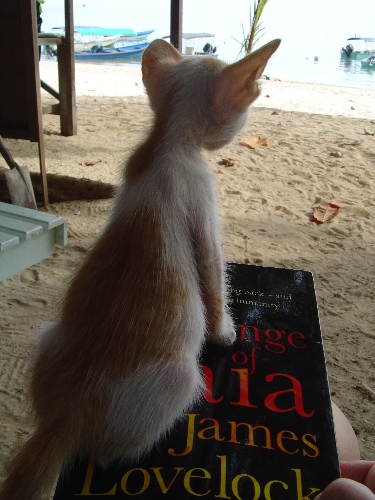 A kitten enjoys the view. They were very cute but quite skinny and sadly prone to diarrhoea.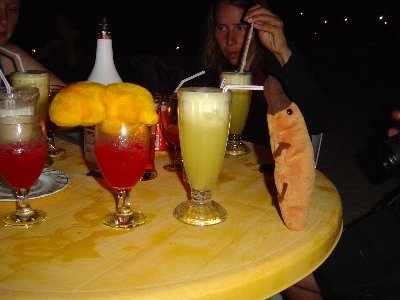 Kenneth and Kenneth enjoy pineapple lassi with Malibu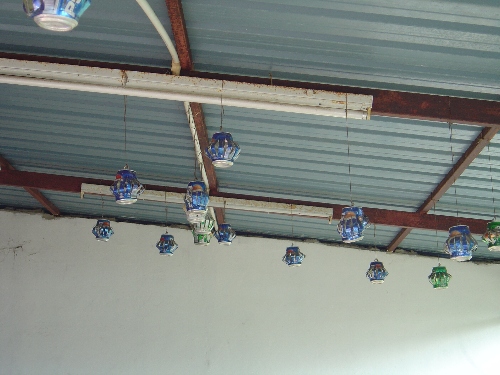 Handcrafted decorations suspended in a garage
Jerantut
We passed through Jerantut on our way to Taman Negara National park. The Lonely Planet guidebook is rather ruthless about Jerantut - it was actually quite a nice place to wander around.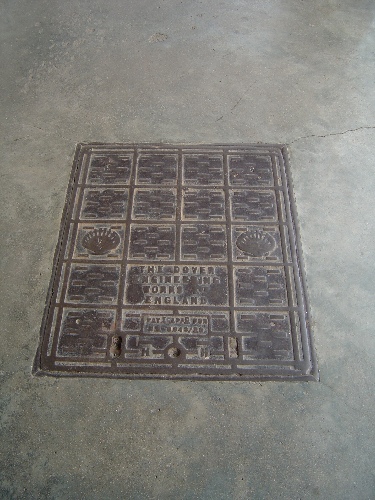 Manhole cover from the colonial era - old-fashioned British quality...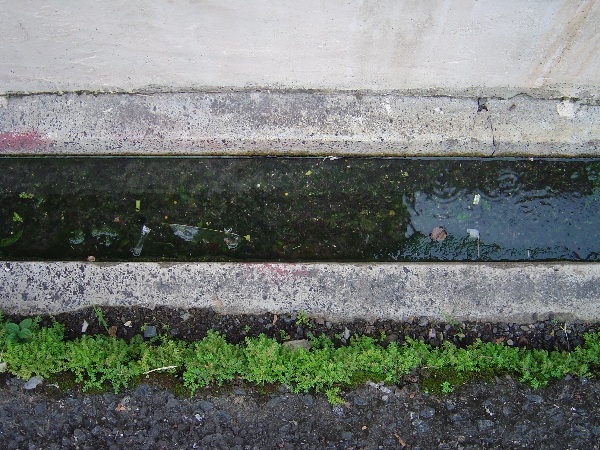 Life in the gutter. The water was teeming with tadpoles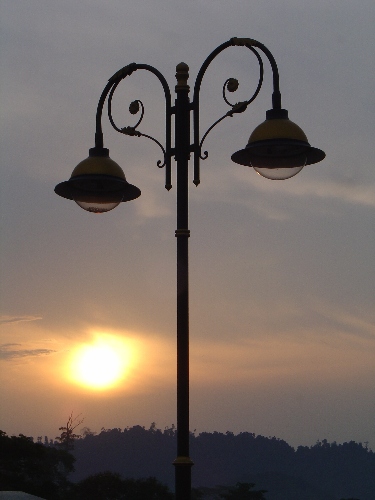 Sunset and a decorative lamp post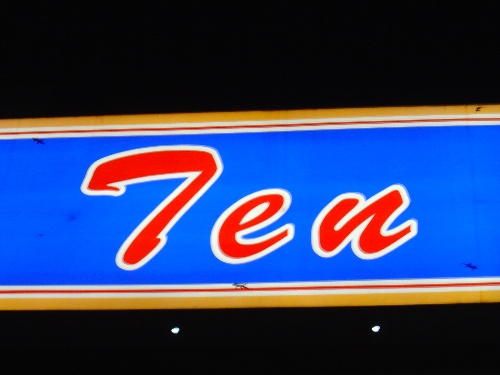 Geckoes hunt the flies attracted by the neon sign
Taman Negara
Taman Negara means national park in Malay. The Taman Negara is an area of dense jungle and a river - famous for its wildlife which can be hard to see due to the dense jungle. Hmm. We went on a night drive in a 4 WD and saw a leopard cat, birds, frogs, a praying mantis and an owl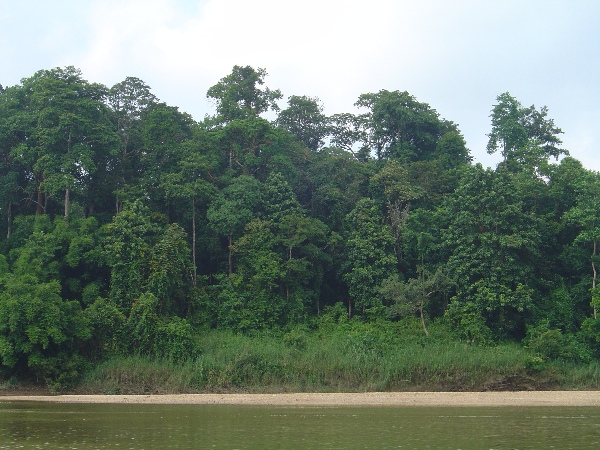 View from the boat heading into the park. A constant front of green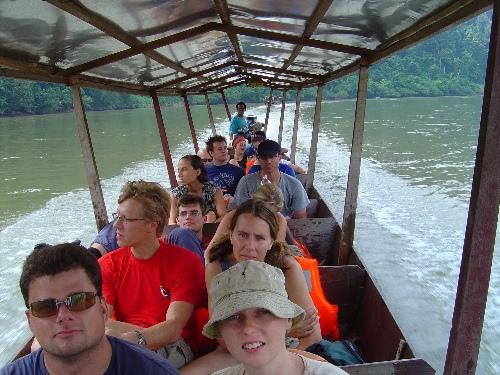 The boat, Kim, Kent, a boatload of other people, Marianne and Natja. Getting a sore back side.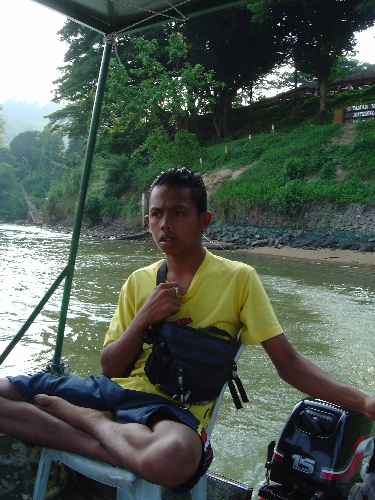 A taxi ferrying us across the river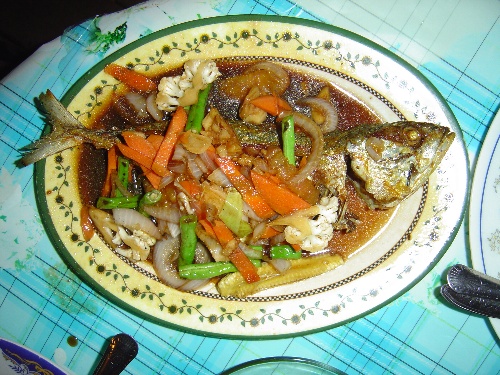 Local fish - yum!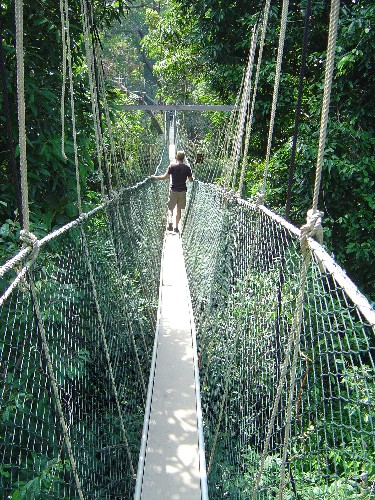 The not very famous hanging walkway in Taman Negara - very bouncy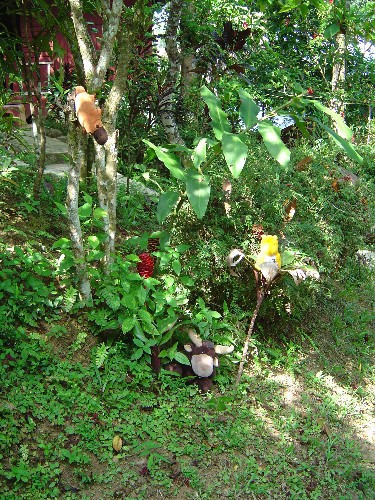 Kenneth, Kenneth and Mogens out hunting
Kuala Lumpur
We spent the last two nights in Kuala Lumpur in air conditioned bliss. Did what everyone has to do in KL, that is shopping. Lotte is now the proud owner of a $4 "genuine fake" CK wrist watch. Wrist watches and mobile phones were still very popular.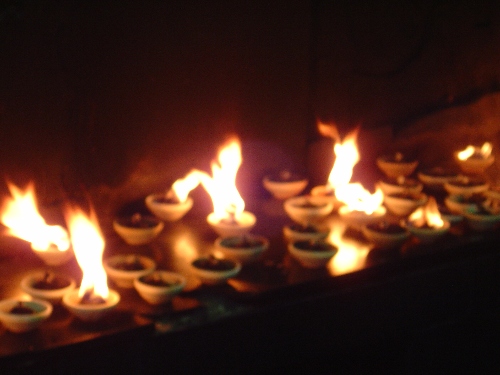 Candles in a Hindu temple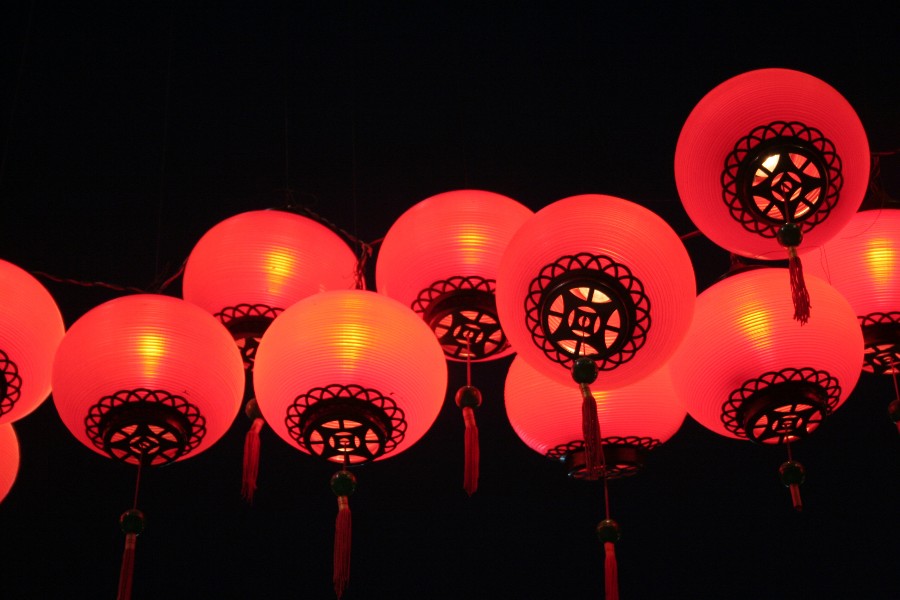 Lanterns hanging in a Buddhist temple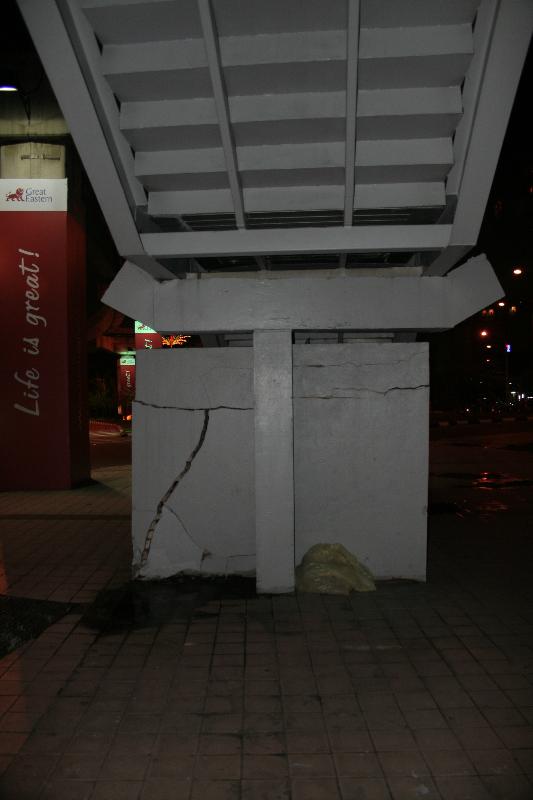 KL has built a fantastic modern local train system over the last ten years - just not so sure about the build quality...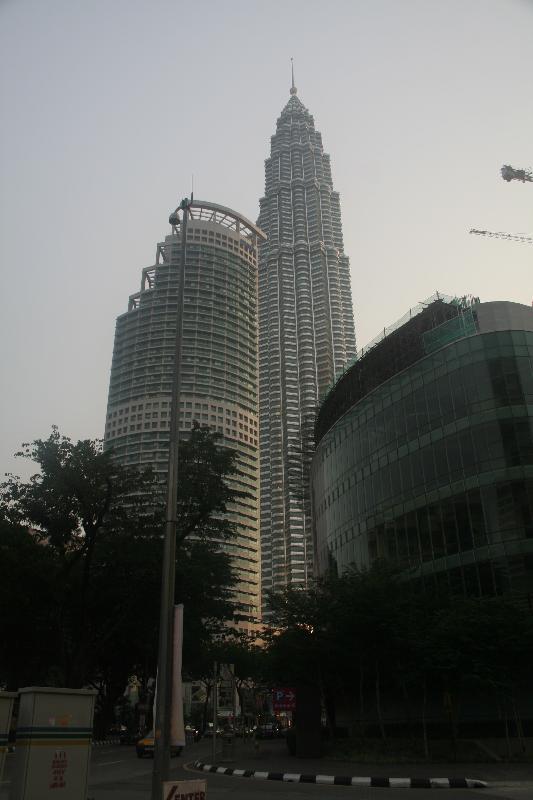 Hopefully the Petronas towers have a better build quality - they dominate the skyline from most of KL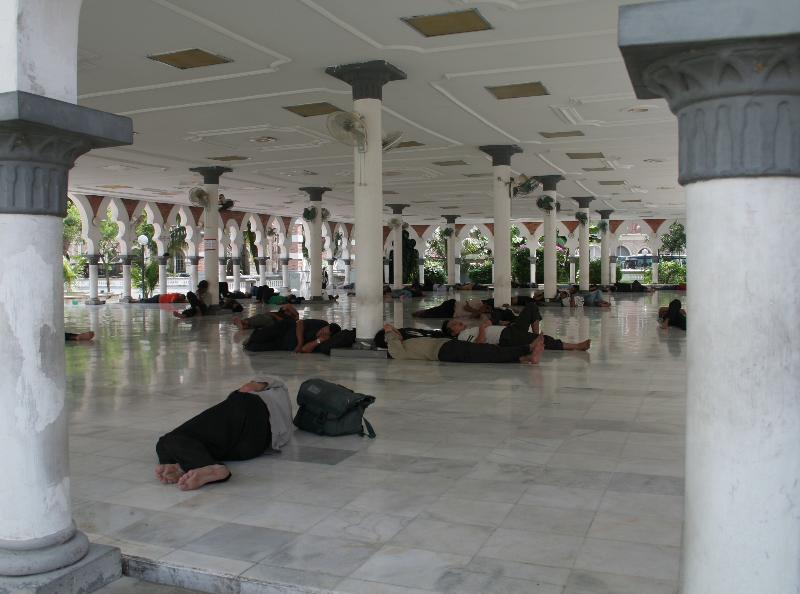 They say churches perform a social function as well as religious - the Jamek mosque in KL seemed to be a popular place for a midday siesta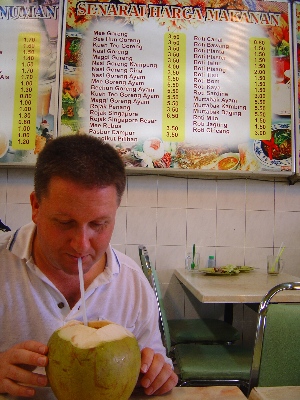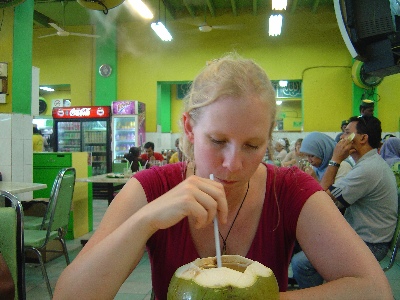 Green coconut juice. Good with Tandoori chicken. Malaysia is blessed with a population made up of people from nations whose cooking makes Denmark's pale into comparison. Pickled herring anyone?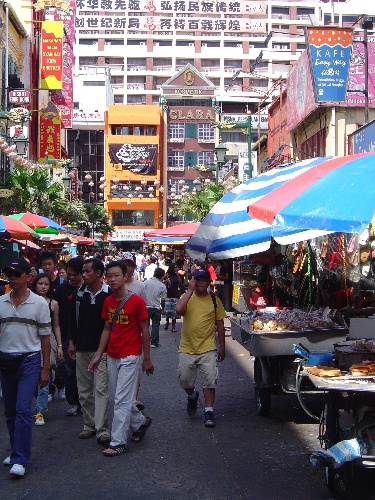 Chinatown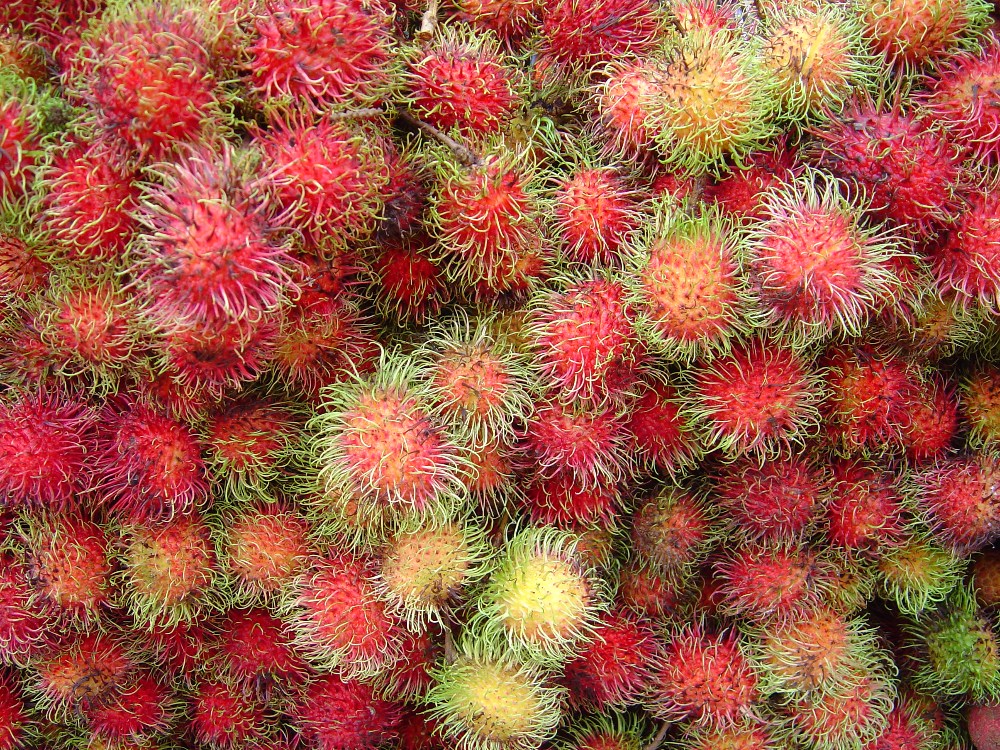 Rambutans!